Introducing our "NEW" VP9000 Series Locking Pulls.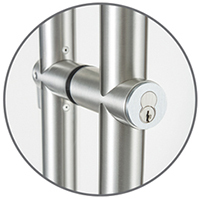 Designed with our customers in mind we combined our "Easy-to-Install" locking design with our reliable heavy-duty type 304 Alloy Stainless material making our 9000 series locking pulls a great choice. Our fabricating process provides the flexibility to customize to your specifications or create unique finishes, non-standard diameters and reliable mountings to complement distinctive architectural designs. All of our pulls meet or exceed BHMA industry standards.
---
LOCKING PULL OPTIONS
SF – Split Finish Option

This design supplies high-polished ends with a satin-finish center that offers an exciting modern look. This split finish helps conceal scratches that occur on a highly used entrance that demands high-polished pulls.
When ordering, add suffix "SF" behind the 9000 Series product number to receive this attractive option. Example: VP9442SF-3.
---
PC – Powder Coat Option

Using an exterior grade powder with supreme UV test results, makes these pulls very durable for day-to-day use. It also will give your openings that new modern architectural look. Flat Black is our most popular color and other colors are available.
When ordering, add suffix "PC" behind the 9000 series product number to receive this option. Example: VP9442PC-3
---
L - Leather option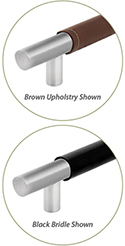 Our leather-wrapped option is hand sewn here in northwestern Pennsylvania with quality workmanship and the highest of standards. Featuring both interior and exterior applications, this option will surpass your expectations. We offer two types of leather – upholstery and bridle, and have two standard colors – brown and black. Other colors are available upon request.
When ordering, add suffix "L" behind the 9000 Series product number to receive this distinctive option. Example: VP9442L-3
---
Download our NEW VP9000 Series Locking Door Pulls catalog.