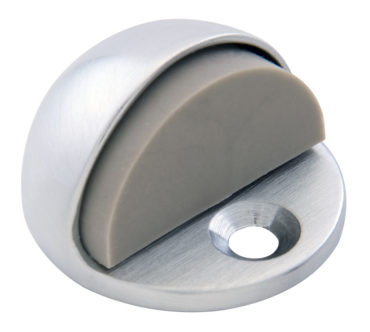 Cut Sheet: Print | Email | Download
Part# 510
Low Dome Stop
For doors without thresholds (not undercut). Designed to minimize stumbling hazards and cleaning interference. Non-marring rubber is attached in a tamper-proof manner to prevent theft.
Material
Cast Brass or Bronze with Gray Rubber Bumper
Size
1-3/4" diameter x 1" High x 1/8" Base thickness
Finishes
US3/605 – Bright Brass
US4/606 – Satin Brass
US10/612 – Satin Bronze
US10B/613 – Dark Bronze Oxidized
US26/625 – Bright Chrome Plated
US26D/626 – Satin Chrome Plated
Flat Black Powder Coat



ANSI
L02141
Standard Fasteners
Supplied with wood screws and machine screws with anchors.